THIS GIVEAWAY IS NOW CLOSED! THE WINNER HAS BEEN ANNOUNCED HERE!
With Ann Aguirre's second of her urban fantasy Corine Solomon series hitting the shelves this year, I approached her to see if she'd like to do a giveaway for Hell Fire. Aguirre countered with a better offer: she'd send the winner his or her pick: Blue Diablo OR Hell Fire. So readers who've already started the series can get a chance for the second, and readers who haven't started yet get a chance for the first! Interested? Read on: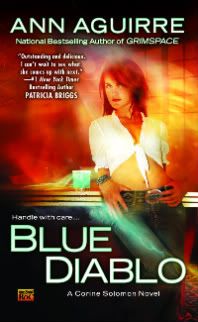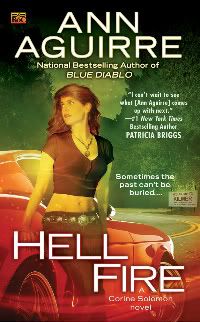 Blue Diablo blurb:

Eighteen months ago, Corine Solomon crossed the border to Mexico City, fleeing her past, her lover, and her "gift". Corine, a handler, can touch something and know its history—and sometimes, its future. Using her ability, she can find the missing—and that's why people never stop trying to find her. People like her ex, Chance . . .

Chance, whose uncanny luck has led him to her doorstep, needs her help. Someone dear to them both has gone missing in Laredo, Texas, and the only hope of finding her is through Corine's gift. But their search may prove dangerous as the trail leads them into a strange dark world of demons and sorcerers, ghosts and witchcraft, zombies—and black magic . . .

Hell Fire blurb:

As a handler, Corine Solomon can touch any object and know its history. It's too bad she can't seem to forget her own. With her ex-boyfriend Chance in tow—lending his particularly supernatural brand of luck—Corine journeys back home to Kilmer, Georgia, in order to discover the truth behind her mother's death and the origins of her "gift."

But while trying to uncover the secrets in her past, Corine and Chance find that something is rotten in the state of Georgia. Just a few miles away, no one seems to know Kilmer exists. And inside the town borders there are signs of a dark curse affecting the town and all its residents—and it can only be satisfied with death . . .

To enter, pay attention!

First, check to see if Book Depository ships to your country. You can do so by clicking here. If it does, congrats! You're eligible for the giveaway! Proceed to step two:

Email me at calico.reaction[AT]gmail.com with the following:

1) CORINE SOLOMON as the subject
2) Pick your book: BLUE DIABLO (book one) or HELL FIRE (book two)
3) Your real name
4) Your mailing address (Make sure you format it according to your postal regulations)
5) Your LJ name (if you have one) and/OR where you heard of this giveaway.

That's it! Yes, I know it's more personal info, but it prevents people from entering multiple times (yes, one entry per person) as well as gives me an immediate way to contact you when you win. :)

Giveaway ends on Monday, May 31st, the winner will be announced on Tuesday, June 1st. Good luck to all who enter! UPDATE: Giveaway extended through Tuesday, June 1st with the winner announced Wednesday, June 2nd!

Promote the giveaway? Here's a banner (thanks to my journal layout, it's cut off on the right, but it'll show up just fine in full as long as you don't have a wonky format like mine), along with the proper URL to link it too!




http://calico-reaction.livejournal.com/166489.html

Many thanks, and GOOD LUCK!